Travel Appeal takes on the #10yearchallenge in the hospitality and tourism industries. Let's explore the ten biggest differences over the past decade.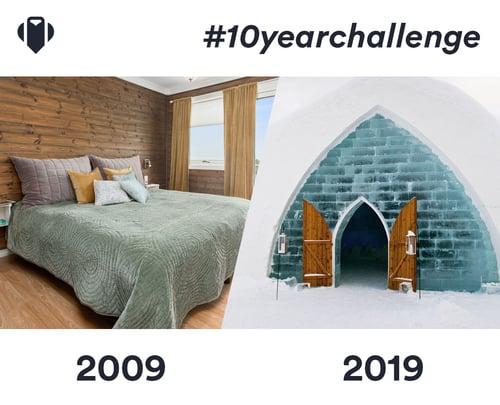 1. King Suite vs. Igloo
2009, seems like yesterday…
10 years ago travelers were planning their vacations in the most popular cities - New York, London, Paris. They were booking their stays at classic accommodations - hotels and the occasional Bed-and-Breakfast. King-size beds and complimentary breakfasts were the desires of most guests.
Fast forward to 2019. Travelers are now choosing alternative accommodations; anything from glamping (glamorous camping) to remotely-located igloos is now considered commonplace. Nowadays, travelers are staying in authentic and non-traditional accommodations - airports are even offering sleeping pods for travelers to catch some z's. With the debut of AirBnb in 2008, accommodations have become more extreme. Adventurers are now able to choose from luxury penthouses, cowboy ranches, windmills and tree-houses, just to name a few.

2. From a Welcome Handshake to a Welcome Screen

Checking in to a hotel has never been easier and more seamless than in 2019. Hoteliers have handed the front office over to digital technology. Smart tablets now greet guests in lobbies and room keys are generated by entering your personal information on a screen.
Additionally, with the emergence of Smart hotels, the customer experience is more personalized than ever before. Guests can control the room temperature and lighting from a mobile device. Artificial intelligence is storing these preferences to replicate at future stays across all hotel properties.
BBC released a video about the Henn-na Hotel in Tokyo, Japan. They welcome guests with a robotic dinosaur instead of a smart tablet. Also, guests can open their hotel rooms with facial recognition and control the lights with voice commands.

3. Concierge to Bot
Looking to order room service or a wake-up call? 10 years ago we were calling down to the front desk to order these services while learning how to use our iPhone 3GS. Today, we simply message a chatbot with our iPhone X.
Hoteliers are also relying on smart technology to provide personalized suggestions for guests about what to do and see in a destination based on demographics, behaviors and preferences. With the assistance of artificial intelligence and social media sites, hoteliers can access personal information about guests before they arrive. By automating the concierge, hotel managers are increasing productivity and spending more time developing business strategies.
Don't stay stuck in 2009. Learn more about Travel Appeal Conversations to keep up with the times.

4. There's an App for that
10 years ago, travelers were picking up the phone to place a call or sending an email to make their hotel reservation. Today, these travelers are trusting an application on a mobile device to complete their booking. TrekkSoft revealed that the number of bookings with no human interaction jumped from 75.8% to 82.2% from 2017 to 2018. M-Commerce (mobile-commerce) has revolutionized the way travelers book a flight, a hotel reservation or tickets for virtually anything.

5. Wait, what's a Travel Agency?

Back in 2009, when planning a vacation to a new location, travelers would research the best hotels, restaurants and activities by consulting their local travel agent or travel guide. With the emergence of OTAs (online travel agencies) over the past decade, the role of the travel agent has largely been replaced by websites such as TripAdvisor, Booking.com, Yelp or Expedia. Travelers are much more independent in 2019, turning to the internet for inspiration and to complete their vacation itineraries. Mobile devices have turned into a one-stop-shop for all travel needs. Furthermore, travel agencies have modernized with the addition of sites such as Lola. Lola enables users to book flights, earn loyalty points and complete an expense report all from an all-inclusive website and app.

6. The Evolution of TripAdvisor
TripAdvisor was an early adopter of user-generated content. The website in 2009 was solely used to leave and read reviews about hotels and restaurants. Today, TripAdvisor is the ultimate king of reviews. With its recent transformation, users now have a deeper social experience and can connect with others in the travel community. Reviews and forums about virtually anything travel or hospitality related have been joined by live check-ins and photos, recent news and personalized recommendations.

7. Instawhat?
Picture a world without Instagram, filters and stories. Imagine not seeing daily #wanderlust or #foodporn photos in your social media feed. That world wasn't too long ago. The photo-based social media account started impacting the travel industry only 9 years ago. With over 800 million users today, Instagram is the ideal "place" for travel inspiration. Today, Instagram not only features envy-worthy photos from all corners of the world, but they are integrating advertisements and an "Explore" feed, triggering wanderlust across users.

8. Uber Cool
Exactly ten years ago, a transportation revolution began. Another app that has transformed the travel industry is Uber. Founded in 2009, Uber offers quick and reliable transportation from a convenient mobile app. Business travelers are one the most actives user of the app. Business of Apps released a case study from Certify, revealing that "Uber was the most expensed vendor by US business travellers in Q3 2018, accounting for 11% of the total transactions made... The second-most expensed company was Starbucks, claiming a mere 4% of the total."

9. Reviews: The New Currency
With the growth of social channels comes the rapid integration of online reviews. According to The Drum, 93% of consumers say online reviews have an impact on their purchase decisions. BrightLocal uncovered that 85% of consumers trust online reviews as much as personal recommendations and 49% need at least a four-star rating before they choose to use a business. With the growth and critical importance of reviews over the past ten years, businesses have had to adapt, incorporating reputation management into their strategies.
Goodbye Excel, hello Travel Appeal!
Travel Appeal has simplified the hotelier's job. With our Dashboard product, businesses have an at-a-glance tool for managing their entire reputation and performance. We leverage sophisticated proprietary algorithms and platforms to be the only solution with unparalleled data collection and warehousing. What does this mean for a hotelier? Eliminate the excel file and manage every review and guest feedback from an easy-to-use dashboard. All your reviews in one place. Learn more here.
"Travel Appeal has optimized access to the information that is necessary for the evaluation of the Brand Reputation of our three hotels. This has finally put an end to our countless Excel spreadsheets." - Filippo Polo, HotelinVenice

10. Some things never change
Despite new adventurous accommodations, convenient apps and robot interactions, some things never change. Hoteliers are still calling review and booking sites, such as TripAdvisor and Booking.com to take down customer complaints or request a higher ranking.
What can we look forward to over the next 10 years? Stay tuned for the 2029 update!